.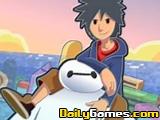 Big Hero 6 Transformers
2015-11-23 -
logic
Bee has been hurt in Transformers war and you have to him to destroy his enemies. Use your mouse.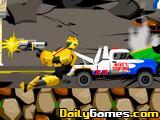 Bumblebee Rescue Mission
2014-12-23 -
Movie
Autobots vs Decepticons whenever in war. This time, fighting in amazings races to show who is the fatest car. Use the arrows to drive and Space bar to use nitro.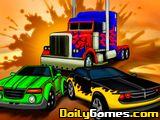 Transformers Race
2014-09-06 -
Movie
Build defense towers to stop decepticons. Use the mouse to drag the autobots from tjhe inferior menu to the map.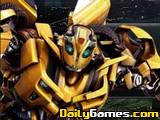 Transformers autobot Stronghold
2014-04-17 -
Movie
There's nothing better to kill time than the Transformers. Make the blocks fit and level up. use arrow keys to move and rotate the pieces.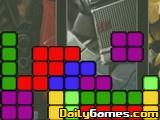 Transformers Tetris
2013-08-21 -
Movie
Arrange the pieces correctly to figure out the image. To swap a pieces position, click on the piece and then the neighboring one. The quicker you are to compete, more score to your account.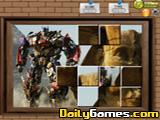 Transformers Photo Mess
2013-04-12 -
Movie
A great game where you have t help a robot that survived the war. The creature is destroyed, so get its parts together and escape. Controls: 1: Use A,D to walk, W to climb and S to go down. 2: Use arrow keys to move and jump, E to combine both parts.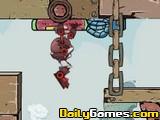 Transformers Escape
2012-07-12 -
Movie
Pick your Transformers truck and be part of this race. Use all your power to get there first and don't dump your car. Use arrow keys to drive and control the balance.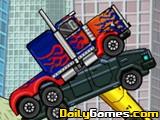 Transformers Race Machines
2012-06-01 -
Movie
Help the Transformers in their fight with space enemies and beat all the levels. Use arrow keys to move, B to shoot and N to hit. Keep space bar pressed to get a super shield.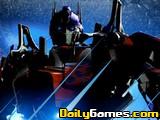 Transformers Dead Planet
2012-01-18 -
Movie
Drive a Transformers truck and get the load from one point to another without losing anyting on the way. Use the arrows.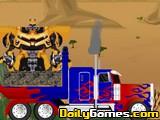 Transformers Truck
2011-05-05 -
Movie
Have fun customizing your own Transformer robot. Combine the robot parts according your style. To achieve it make click in every part of the robot to find the perfect piece for it.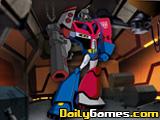 Transformers Robot Builder
2010-10-24 -
Movie
Choose between the toonami, he-man, transformers or zoid spaceships and prepare yourself to get into the most dangerous tunnel in the universe.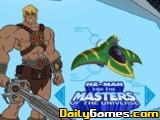 Tunnel rush
2010-09-13 -
Movie
Get into the fortress without being detected and capture the energy cube. Move with the arrow keys. Press Enter to camouflage.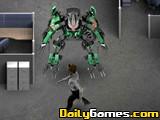 Transformers capture the cube
2009-06-16 -
Movie
You must prevent the mineral from youyr base from being stolen. Shoot down the enemy ships and prevent the infantry from digging a cave. Use the mouse to aim and shoot. Change the speed of your missiles whenever you want.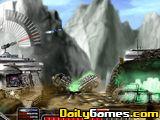 Transformers Energon Within
2007-08-06 -
Movie