Be part if this sick South Park race. Drive over the yellow marks to gain speed and avoid the red ones. Use arrow keys to drive and ESC for a pause.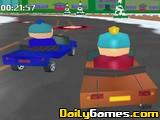 South Park Race 3D
2014-04-12 -
Cars
Play with the bad guy from South Park and select the action you want to get revenge. Use your mouse.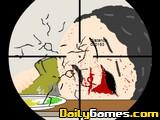 Ray
2013-06-08 -
Bloody
Get through all the obstacles on the South Park vehicle and win the race. Go over other vehicles, barrels and more. Use arrow keys to drive.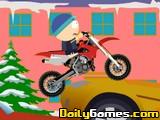 South Park Trail
2013-01-20 -
Bikes
Drive your bike around South Park mountains. Don't fall! Watch the bar to know how much distance you have left. Use the arrow keys to move.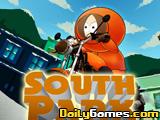 South Park Bike
2012-03-06 -
Bikes
Help brave Cartman drive his bike throughout South Park. Your goal is to be fast and not fall to beat the level. Use the arrow keys to drive.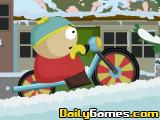 Cartman Road Trip
2012-02-02 -
Sports
A game with the South Park characters, where you have to help Kenny avoid the dangers and survive as long as he can. Use your mouse.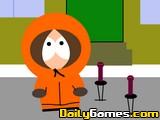 Kill Kenny
2011-10-03 -
Bloody
A bloody but funny animation about some characters, similar to South Park. This thrid part is not more than an intro, the first two will be out soon.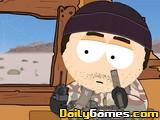 Ray Part 3
2011-08-26 -
Animations
Near South Park a volcano erupted and the lava is getting to the people. Solve the puzzle and find a way out! Use your mouse.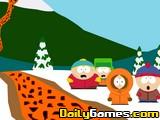 South Park Volcano
2011-06-22 -
Puzzle
Choose your favorite South Park character and fight against your adversary transformed into Mortal Kombat fighters with the A,S,Z and X arrow keys. Press Enter to advance in the menus and start playing.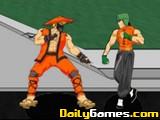 South Park Tokutawa
2005-06-09 -
Fight
The fall of the twin towers seen from the perspective of the famous kids of South Park, it doesnt have waste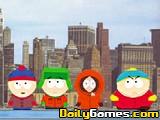 South Park Towers
2005-04-12 -
Animations
Funny South Park 3D racing game starring Cartman, Kyle, Stan and Kenny. Use arrows to accelerate, steer and brake and space to enable extras.Do you dare?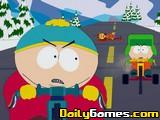 Big wheel death rally
2005-01-02 -
Cars