The furious Hulk want to destroy police cars and houses on his way but he needs collect money to continue doing it. Can you help him? Use your mouse.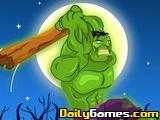 Revenge of the Hulk
2014-10-16 -
action
Help Hulk drive this moto and make everything blow up. Get stars for more points. Use arrows to move.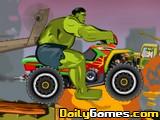 Hulk Ride
2013-03-13 -
bikes
Become Hulk for a day and have fun destroying cars, helicopters and everything you find. Use mouse to hit.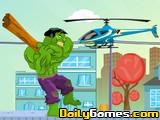 Revenge Of The Green Giant
2012-05-18 -
adventures
Help Hulk drive an ATV and control the reads to reach his destination safely. Use the arrow keys to drive and keep on balance. Beat the obstacles and beat all the levels.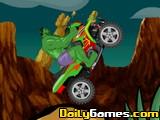 Hulk ATV 2
2012-02-05 -
bikes
Help incredible Hulk drive an ATV, you have to get to the finish line as soon as posible, and without having any accident. Use the arrow keys.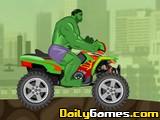 Hulk ATV
2011-08-17 -
bikes
Help incredible Hulk get revenge from the special forces and destroy all their vehicles. Go around the city smashing everything you see, except for the ambulances. Use your mouse.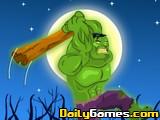 Revenge Of Hulk
2011-08-07 -
bloody
Help incredible hulk escape from th army attack, avoid the missile and destroy the obstacles, or jump over them. Use the arrow keys to move and jump, space bar to hit.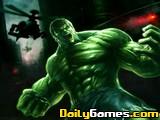 Hulk Madness
2011-07-17 -
action
Help incredible Hulk make the most of his strength. You gotta wait for the right moment to press the space bar and hit as strong as you can.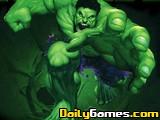 Hulk Power
2011-07-14 -
ability
Help incredible Hulk drive his car trough a place full of obstacles. You gotta show your skills and get to the end without dumping the car. Pick up energy on your way! Use the arrows.
Hulk Truck
2011-05-10 -
cars
Place into the Hulk's skin and fight against the gladiators in the arena. Move with the arrow keys. Use the keys Z,X,C to attack and block the punches. Press the space bar to jump. Press caps lock to crash your adversaries and V to activate the shield punch.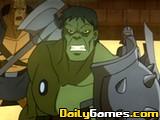 Planet Hulk gladiators
2010-05-28 -
fight
Help the incredible Hulk to destroy all the cars quickly. Move with the arrow keys. Press Ctrl and Caps lock to hit. Press Enter to grab the cars.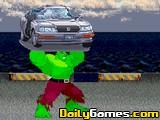 the hulk car demolition
2010-03-25 -
ability
Jump on all the robots that are trying to attack you. Don't let them get too close. Keep pressed the mouse left button to collect energy and release it to jump.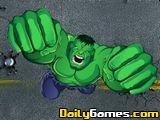 Hulk central smash down
2008-07-01 -
action
A great animation full of heroes. Superman, Hulk, Lara Croft, Zelda, etc.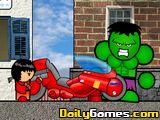 Hero war second impact
2007-07-12 -
animations
You're the incredible Hulk. Move with the arrows and hit with the spacebar. Jump with Ctrl. Wreck buildings and vehicles to pass to the next level.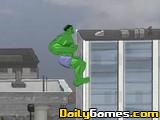 Hulk Smash Up
2006-06-21 -
action
You handle to Hulk and you must to go destroying and damaging all the buildings that you can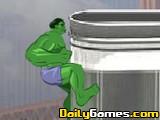 The incredible Hulk
2005-06-28 -
action